ALONZO GARTLEY
(1869-1921), for whom Gartley Hall is named, was a Honolulu businessman and the chairman of the first Board of Regents of the University of Hawai'i. Gartley was a graduate of the US Naval Academy, and came to Hawai'i as a naval officer several times in the last decade of the nineteenth century. He settled permanently in Hawai'i in 1900 and became manager of Hawaiian Electric Company. From 1910 until his death he was manager of his father-in-law's company C. Brewer. His innovations in milling machinery for C. Brewer made him famous in cane sugar circles. He founded the Hawaiian Engineering Association and was its first president. Gartley was a man of many interests. He developed the Agnes Galt hibiscus, a widely grown hybrid in Southern California.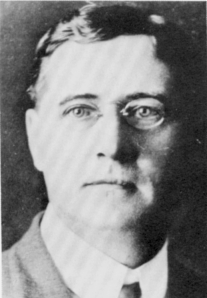 SB Printers photo
He was an especially talented photographer and his views of Hawaiian landscapes, native Hawaiians, and panoramic scenes have become classic images of a bygone Hawai'i. Art historian Lew Andrews characterized his photographs as some of the most appealing and beautiful ever taken in Hawai'i. A number of Gartley's photographs were used in tourist promotion campaigns to illustrate the scenic wonders of Hawai'i.
____________
* Andrews, Lew. "Fine Island Views: the Photographs of Alonzo Gartley" History of Photography, v. 25, no. 3, Autumn 2001, p. 219-239.
* Rosegg, Peter. Notes on Alonzo Gartley.
http://www.ilind.net/misc%20/2006/gartley.html