ARTHUR RIPONT KELLER
(1882-1961), for whom Keller Hall is named, was one of the early faculty members of the newly-inaugurated College of Hawaii.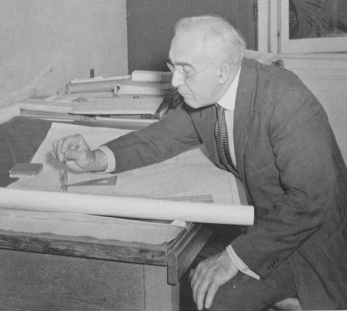 He had a law degree from the National University Law school and a M.S. from Massachusetts Institute of Technology. He engaged fully in campus life, and even played on the College football team when the team fell short of players. Keller left the College to serve in World War I. When he returned, the College had become a University, and was organized in two divisions, a College of Applied Science and a College of Arts and Sciences. Keller served as first dean of the College of Applied Science. He maintained an active teaching role, carrying as many as ten courses during a school year. He was Acting University President from1941-1942. He retired in 1947.
Keller was active in his profession as an civil engineer, both on campus and in the community. One of his early projects had to do with a drainage and flood control system for lower Manoa valley. After the disastrous campus flood of 2004, his portrait fell from the wall of Keller Hall where it had hung for 44 years, confirming the belief of some that Keller's spirit haunts his namesake building.
____________
* Day, A. Grove. History Makers of Hawaii. (Mutual, 1984)
* Kamins, Robert M. and Robert E. Potter. Malamalama: A History of the University of Hawaii (University of Hawaii Press, 1998)