PAUL S. BACHMAN
(1901-1957) was the University's fifth president from November 8, 1955 until his untimely death on January 10, 1957. Born in Adamsville, Ohio, Bachman came to Hawaii in 1927 after receiving a doctorate from the University of Washington. He was appointed the first chairman of the Political Science Department in 1940, when the history-political science faculty was divided into two departments.
Bachman Hall, designed by architect Vladimir Ossipoff was completed in 1949 and was originally called the "Administration Building". The building was named after him at the University's 50th anniversary celebration on Charter Day, March 25, 1957, only a few months after his death.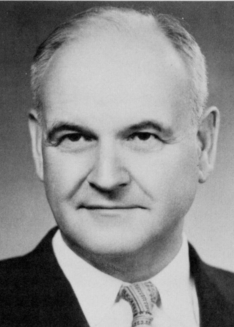 University Archives
____________
* Building a Rainbow (Hui O Students, 1983).