ARTHUR LYMAN DEAN
(1878-1952), for whom Dean Hall is named, was the second president of the University, from 1914 to 1927. Dean Hall was originally called the Biological Sciences Building. Born in Southwick, Massachusetts, Dean received a B.A. from Harvard and a doctorate from Yale. Dean was an assistant professor of chemistry at the Sheffield Scientific School of Yale University when he was appointed president. During his presidency, the College of Hawaii grew into a University, and enrollment enlarged from 21 to 874 students.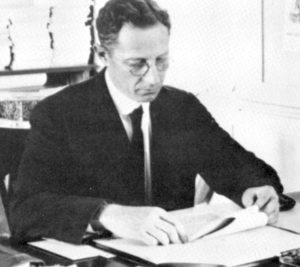 University Archives photo
In 1927, after resigning as president, he served in a variety of executive positions, including that of director of Territorial Food Commission, director of the Pineapple Research Institute (then called the Pineapple Producers Cooperative Association), member of the UH Board of Regents, and a vice president of Alexander & Baldwin.
____________
* Grove, A. Day. History Makers of Hawaii (Mutual, 1984)
* Kobayashi, Victor N. Building a Rainbow (Hui o Students, University of Hawaii at Manoa, 1983)