WILLIAM HENRY GEORGE
(1878-1949) for whom George Hall is named was a political scientist and administrator at the University of Hawai'i from 1928-1938. A man of the world, he fell in love with Hawai'i and made the islands his permanent home. Born in Northwood, Ohio, George attended Geneva College in Pennsylvania, then graduated from Harvard in 1902. He received his master's degree from Princeton in 1906, and a doctorate from Harvard in 1921. He studied at the Sorbonne and at the University of Bordeaux. He was president of Geneva College from 1907-1916. During World War I, he joined the French volunteer army, and served in the Italian ambulance service. For his war service he was awarded the War Cross by the Italian government. After a visiting professorship in Hawai'i from 1928-29, he returned to Hawai'i as dean of the College of Arts and Sciences.1930-1938.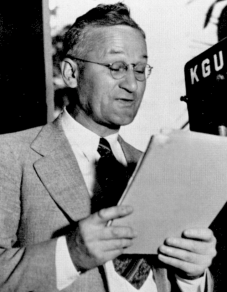 University Archives photo
George was active in the community at large. He wrote an occasional column for the
Honolulu Advertiser
titled "Sagebrush Philosophy" and also contributed to the magazine
Hawaii
. He lived a bachelor's life on his yacht and often wrote on the joys of island cruising. His colleague and friend Willard Wilson characterized him as "popular, brilliant, gregarious, and if the truth be known, slightly bibulous."
____________
* Kobayashi, Victor N. Building a Rainbow (Hui o Students, University of Hawaii at Manoa, 1983)
* Honolulu Advertiser Sept. 25, Sept. 26, 1949.