CHARLES REED HEMENWAY
(1875-1947), for whom Hemenway Hall is named, was a successful Honolulu businessman and long-time member of the Board of Regents of the University of Hawai`i. Along with several other prominent people, Hemenway was appointed by Territorial Governor Carter to draft the Act of Establishment founding the College of Agriculture and Mechanical Arts, the first incarnation of the soon-to-be university.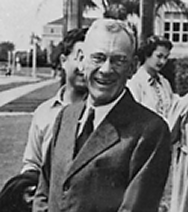 Born in Manchester, Vermont, Hemenway graduated from Yale University and studied law in New York City. He came to Hawai`i to teach at Punahou School and to practice law. He was attorney general of the Territory from1907-1910. He then turned to business and had leading positions with Alexander & Baldwin and the Hawaiian Trust Company and was on the boards of a number of other institutions.
He is best known as a member of the UH Board of Regents from 1910-1940. He served as chair of the board for 20 of those years.
Tragedy befell Hemenway and his wife Jane when their only son "Charley" died as a teenager. After Charley's death, Hemenway served as a surrogate father to countless needy high school and college students. His support came in the form of friendship and substantial financial support, invariably rendered quietly and modestly. As of 1990, some 5,000 students had benefitted from the Hemenway Scholarship Trust established after Hemenway's death.
Hemenway was a leading figure in a decision that saved Hawaii's Japanese-American citizens from the mass internment camps endured by West-coast Japanese-Americans. Testimony concerning Hemenway's involvement in the decision came from Honolulu FBI director Robert L. Shivers who had been given sole authority for internments and releases. Shivers wrote that it was Hemenway who convinced him of the loyalty of the mass of Japanese-Americans in Hawai`i and in the end only a small percentage of that population was sent away.
____________
* Tsukiyama, Ted T. Charles Reed Hemenway. (Office of the Vice President for University Affairs, 1990)