DUKE Paoa Kahinu Mokoe Hulikohola KAHANAMOKU
(1890-1968), after whom the Kahanamoku Pool is named grew up on the outskirts of Waikiki (near the present site of the Hilton Hawaiian Village) and spent his youth as a "beach boy". It was at Waikiki Beach where he developed his surfing and swimming skills.
On August 11, 1911, in an amateur swim meet, Kahanamoku was timed at 55.4 seconds in the 100 yard (91 m) freestyle, beating the existing world record by 4.6 seconds, in the salt water of Honolulu Harbor. He also broke the record in the 220 yd (201 m) and equaled it in the 50 yd (46 m), but the Amateur Athletic Union, in disbelief, would not recognize these feats until many years later.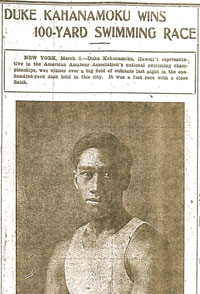 Honolulu Advertiser photo
Kahanamoku qualified for the U.S. Olympic swimming team in 1912, breaking the record for the 200 meter freestyle in his trial heat for the 4X200 relay. He went on to win a gold medal in the 100 meter freestyle in the 1912 Olympics in Stockholm, and a silver with the relay team. During the 1920 Olympics in Antwerp, he won gold medals both in the 100 meters, bettering fellow Hawaiian Pua Kealoha, and in the relay. He finished the 100 meters with a silver medal during the 1924 Olympics in Paris, the gold going to Johnny Weissmuller and the bronze to Duke's brother, Samuel Kahanamoku.
____________
*
Wikipedia (Duke Kahanamoku)
[http://en.wikipedia.org/wiki/Duke_Kahanamoku]