CHARLES A. MOORE
(1901-1967) was a professor of philosophy at the University of Hawaii from 1936-1966. He was chair of the University's philosophy department and in fact its only member until after World War II. Moore came to the university after receiving his PhD from Yale in 1932. He devoted his life to furthering mutual understanding and appreciation between philosophers of the East and West. He founded and edited the journal Philosophy and West; the journal continues today. He organized and supervised four international East-West Philosophers' Conferences, and traveled the world recruiting the best available minds for the conferences.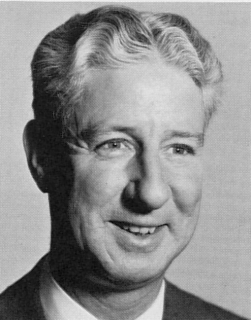 University photo by Masao Miyamoto
A former student John Koller left this vivid word-picture of an extraordinary teacher in action: To get an idea of what Charlie Moore was like in his seminar, picture a tall, thin man impeccably dressed in a blue suit and red bow tie, piercing blue eyes opened wide, shaking his mane of snow-white hair as he sits at his seminar table. Feel his restlessness as the objections pile up inside him while the graduate student reads blithely on. Unable to contain himself any longer, he bursts out, "That's a hell of a thing to say!" And, in machine gun fashion, the objections pour out. By the time he has delivered himself of about half a dozen philosophical objections to the student's claim, the sparkle has returned to his eyes as he waits for the student to accept his challenge and analyze the objections and defend his paper. The student has made his generalizations; now he must defend them with careful and detailed analysis.
____________
* "Tributes to Charles A. Moore as Philosopher, Teacher, Colleague, Editor, and Conference Director." Philosophy East and West, 17, no.1/4 (Jan.-Oct., 1967) 7-14.