MAE ZENKE ORVIS
(1905-1996), for whom Orvis Auditorium is named, was an opera singer in her earlier life, and later, the wife of financier Arthur Emmerton Orvis. Mae and Arthur Orvis liked to reminisce that they had met at the Metropolitan Opera. They moved to Hawai'i in 1956 after Arthur Orvis's retirement as a stockbroker. Their large Kahala home was named "Orvista". Both were active in local civic affair and generous philanthropists.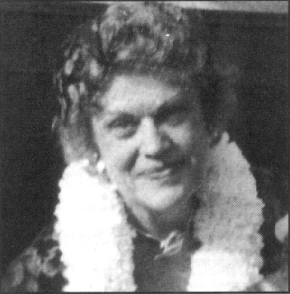 Photo from Music at Manoa newsletter, volume 13, no. 1
UH professor Willard Wilson recalled the circumstances of the gift that led to the construction of Orvis Auditorium. While attending a party in Waikiki Wilson had UH problems on his mind. He thought of the new music complex under construction. An auditorium had been planned but money had run out. Wilson spotted Arthur Orvis across the room and an idea came to him. Wilson approached Orvis and asked if he would consider a donation for the auditorium which would then be named in honor of Mae Orvis. Orvis harrumphed and changed the subject, but the next morning Orvis, checkbook in hand, appeared at Wilson's office. The $180,000 gift was only one of a number of substantial donations to the university. After the death of her husband in 1965, Mae Orvis maintained homes in both Hawai'i and Reno. She supported the University of Nevada Nursing School and that school is named for her. Mae Orvis died in Reno in 1961. She was 91.
____________
* Wilson, Willard. Professor's Briefcase: The Wit and Wisdom of Willard Wilson. (University of Hawaii, Office of University Relations and Development, 1975)
* [Obituary] Honolulu Star Bulletin, Feb. 14, 1996.