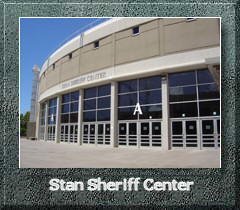 BRUCE STANLEY SHERIFF
(1933-1993), best known as Stan Sheriff, was UH Athletic Director from 1983 until his death. The UH Athletic Center is named in his honor. The Stan Sheriff Center opened in 1994 and celebrates its 10th anniversary this academic year. The center has served as the home of the University of Hawai'i men's and women's basketball and volleyball teams and has played host to a number of memories in the last decade.
Sheriff was born in Hawaii, but moved with his family to the mainland when he was 10. After attending Northern Iowa University and California Poly-San Luis Obispo, he played professional football with the San Francisco 49ers, Pittsburgh Steelers, and Los Angeles Rams. He then went into coaching and was a successful coach and then athletic director of Northern Iowa University from 1958-1982. As he did later in Hawaii, Sheriff sold the concept of an innovative domed stadium to Iowa officials.
As Athletic Director at UH, Sheriff secured television and radio deals for UH worth millions of dollars, operated the athletic program in the black, and upgraded all UH athletic programs despite the expense of flying all teams, even those in minor sports, at least 2500 miles to play Division I opponents. Despite opponents who argued against the expense, Sheriff lobbied successfully for a new athletic complex to replace an aging Klum Gymnasium. Many thought a 4,500-seat structure would do, but Sheriff held the line and insisted on at least a 10,000-seat capacity for the new domed center, similar in construction to the Northern Iowa complex.
Sheriff did not live to see the completion of the new athletic center. In January of 1993 Sheriff attended a NCAA convention in Dallas. Shortly after his return to Hawaii, he collapsed and died of an apparent heart attack at the Honolulu airport.
____________
* Honolulu Advertiser, Jan. 17-18, 1993.
* Des Moines Register, Jan. 18, 1993.
*
http://uhathletics.hawaii.edu/Facil/ssc.html